Our Learning
Engage...Explore...Excel...
CURRICULUM INTENT
Sir Roger Manwood's School was founded in 1563 as a free grammar school for boys of Sandwich town. Today a co-educational grammar school educating over 1000 young people from across a wide area, it continues to serve the local community from a green, spacious and tranquil site, equipping its students for their future. A Manwood's education follows the three strands of our vision of 'Engage… Explore…Excel…' and is designed to enable students to fulfil their individual potential and to be ready to progress positively in whatever they do next; we value personal development as well as academic achievement.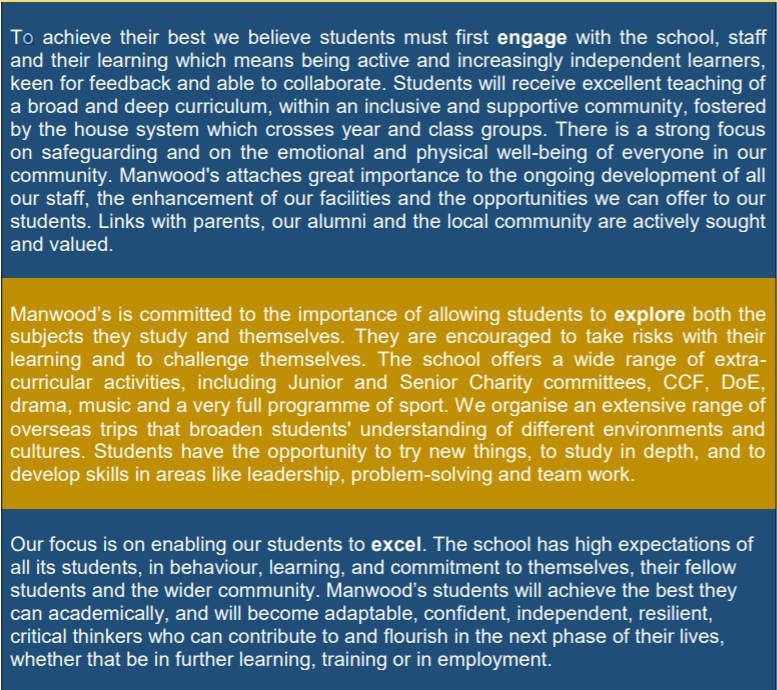 Through its curriculum the School intends to (please note the numbering is for reference only and does not imply an order of importance):
1) maintain and develop lively, enquiring minds in its pupils and to promote the ability to question and argue;
2) foster attitudes which will instil self-confidence in pupils, creating in them a sense of personal excellence and helping them to acquire knowledge and skills relevant to life and work in a fast changing world;
3) emphasise the importance of language and number, the aesthetic and physical areas of learning, and to develop competence in them;
4) help pupils to develop personal, spiritual and moral values, an understanding of religions and beliefs, a tolerance of others and their ways of life;
5) help pupils to understand the world in which they live and the interdependence of individuals, groups and nations;
6) develop in pupils the ability to critically appreciate human achievements and aspirations;
7) understand the complex human interaction with, and dependence upon, the local and global environment, and develop a caring and responsible attitude towards the environment;
8) promote academic excellence;
9) foster students' creativity;
10) develop skills that are essential for higher education and employment e.g. independent working, research, presentations;
11) promote a healthy lifestyle;
12) model and promote fundamental British values and to prevent students becoming radicalised;
13) inspire students to a commitment to learning which will last a lifetime It is the duty and responsibility of all staff to promote the aims of the school, not only in the teaching context but also in every aspect of dealings with pupils and each other.
We should seek to provide a caring community which encourages concern and respect for the welfare of others.
For further details on our learning please go to our Policy's page to find our Curriculum Policy.